Saund vs Cochran is a feature documentary in development about a dramatic and groundbreaking political campaign that electrified California and the nation in 1956.
In 1956, Dalip Singh Saund (D), a local judge and recently naturalized U.S. citizen of Indian descent campaigned against Jackie Cochran Odlum (R), an aviation pioneer, WWII leader, and owner of a cosmetics empire for a seat in the U.S. Congress representing California's 29th District. Their competition sparked local debates and national conversations in America about…
Cochran flew her own plane everywhere. She had unlimited resources and support from President Eisenhower (R). She won the Republican nomination against 5 conservative candidates.
Saund's campaign was markedly humble.
With a dedicated team of family and volunteers, and the endorsement of Senator John F. Kennedy, he ran a voter registration drive that attracted 6,500 new voters in just 11 weeks.
With 80% voter turnout, and to everyone's surprise,
Dalip Singh Saund won an upset election by just 3,300 votes.
This launched Saund into national and international attention as the
first-ever
Asian American, Indian American & Sikh American
to serve in the U.S. Congress.
In Congress, Saund served as a tireless advocate for his CA district – championing veterans, farmers, and the indigenous residents of Agua Caliente. He supported the Civil Rights Act of 1957 and additionally served on the House Foreign Affairs Committee. Saund was re-elected twice and served a total of six years before he suffered a debilitating stroke in 1962. He died in 1973. Cochran died in 1980, having donated considerable time and money to charity. At the time of her death, she held more speed, altitude, and distance records than any other pilot, male or female.
The story of the documentary is based on original research of over 2000 newspaper articles from 1955-1957 published in California, across the nation, and internationally in Europe and Asia.
These newspapers reveal a remarkably engaged American electorate. The voices of the voters, the journalists, and the political pundits will appear throughout the film and move the story forward, exposing a local and national conversation about political representation that has strong parallels to what women and people of color face today.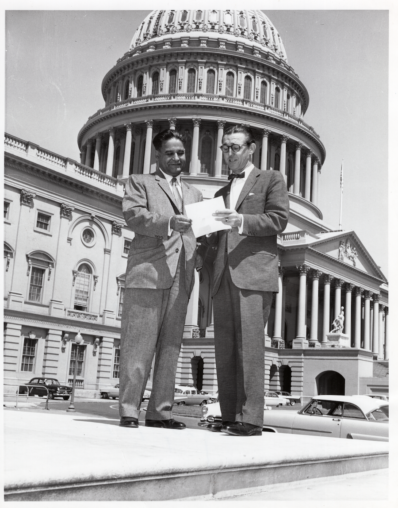 "Among this year's 435 contests for the U.S. House of Representatives, none can match in flamboyance the three-way combination of Jackie, the Hindu judge, and the sprawling CA 29th congressional district that they are fighting for."
From TIME Magazine, Jan 9, 1956
This is a story of democracy in action. It is about the first Asian American, first Indian American, and first Sikh American elected to serve in the U.S. Congress. It is about a female aviation pioneer who broke barriers in the air and in the political arena.
A nonpartisan perspective on this surprisingly overlooked story of political inclusion will attract broad audiences in the US and internationally, just as it did in 1956.
It will uncover a forgotten moment of American history to highlight issues of political representation and governance that resonate today. It will illuminate the process by which democracy works and evolves, the power of coalition politics and voter registration, and the intersection of varied considerations of ethnicity, gender, wealth, and belonging as we consider how to vote in 2024.